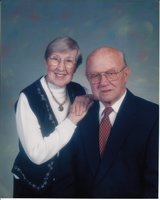 JOHANN WILHELM FERBERS
JOHANN WILHELM FERBERS
It is with deep sorrow that we announce the death of our beloved "Hans", "John" to some and dad, grandpa (or opa) to others, in Winnipeg at the age of 88 on April 11, 2018.
Hans is survived by his dear wife of 60 years Jeannine (nee Champagne), sons Edward, Keith, Mark, and daughter Karen, daughters-in-law Carol and Darlene, girlfriend Elana, grandchildren Colby, Desiree, Spencer, Skylar, Quinn, Grant, Megan, Bradley, Atlin and Amber, and sister Rita Grabisch of Frankfurt, Germany.
Hans was born in the lower Silesian city of Waldenburg (now Wroclaw) before his family moved when he was 4 to the smaller Silesian town of Hirschberg (now Jelenia Gora) after his father fled arrest by Nazi officials for belonging to a democratic party opposed to the NSDAP. The second youngest of 7 children it was in the rolling mountains surrounding Hirschberg that Hans grew up with his little sister Rita, and pursued his love of sport (skiing, ski jumping, diving and swimming). At the age of 10 the hostilities of war changed Han's life course, being co-opted at age 14 to serve in the ski brigade and later to dig tank trenches. Hans credited his profound sense of good, evil, and faith to the experiences he endured, and the events of 1945 which led to his family fleeing home and the advancing battle. These events and a sense of adventure led Hans to immigrate to the vast expanse of Canada in 1952 to settle in Winnipeg after a year of agricultural labour on a wheat farm outside Regina. Once in Winnipeg Hans took a job at Gaspards & Sons Ltd. where his eyes met those of a young French-Canadian receptionist and, after an on-again off-again courtship, love prevailed and the two were married in 1957. Hans earned accounting credentials and worked as an accountant and controller first at Gaspards & Sons and later at Olympic Pant & Sportswear. He pursued his love of the outdoors with family camping, canoeing and cross-country ski excursions, volunteered for Boy Scouts and dedicated hours of service with his home church parish at Our Lady of Perpetual Help in Charleswood. Hans also loved gardening and woodwork and his many skills lent a welcome hand to his children on countless occasions.
Hans was a proud grandfather of his 10 grandchildren on whom the sun rose and set. He will be missed by them all and always remembered with love for his generosity and encouragement. .
Mass of Christian Burial will be celebrated on Monday, April 16 at 11:00 a.m. at Our Lady of Perpetual Help Parish, 4588 Roblin Blvd. Interment to follow in Assumption Cemetery, 3990 Portage Avenue West.