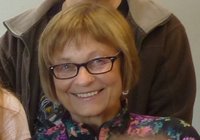 HELEN IRENE BLONSKI
HELEN BLONSKI
It is with great sorrow and heavy hearts we announce the passing of Helen Irene Blonski on Thursday, April 5 at the Health Science Centre in Winnipeg.
Helen is survived by her beloved mother Maria, brother Richard, sister-in-law Susan, nephew Devan, her much cherished, loving dogs Lizzy and Sir, her extended family Christine and brother Michael Larten, and her many close friends. She was predeceased by her father Joseph.
Helen was born on June 11, 1952 in Brandon, Manitoba. She lived her early childhood in the small community of Griswold where she was active with the town's only church, as well as the 4-H club of the rural area. She attended school in both Griswold and Oak Lake until she and her family moved back to Brandon in July of 1966. There, she attended and graduated from Brandon Collegiate Institute, and went on to study and practice nursing at Brandon General Hospital from 1973 – 78. Following that she moved to Winnipeg where she studied and practiced Psychiatric Nursing for a brief period. It was then Helen decided to leave the field of nursing and moved back to Brandon where she obtained her BA in political science at Brandon University in 1981. She then returned to Winnipeg where she attended the University of Manitoba to study and graduate with a degree in law. It was in Winnipeg where she practiced law and eventually met and married Terry O'Shaughnessy. They remained married until 1997 and then remained close friends until Terry's death in 2013.
It was 1998 when Helen decided to return to the profession she loved most and went back to nursing where she specialized in palliative care. She worked in that field at Winnipeg's Riverview Hospital until shortly before her passing.
Since childhood Helen had a love for reading and was rarely without a book in her hand for relaxation. Also, during her years from marriage until her passing, she was a passionate and proud owner of several Airedale dogs most of which won many awards as show dogs. Helen always kept two dogs and if one passed away, she would quickly fill the void. It was her love, comfort and security in life to be surrounded by not only these animals but just as importantly, her extended, surrogate family, Christine and Michael Larten, and Sue Dilabough of Winnipeg.
Helen touched the hearts of countless people in both her professions and daily life and leaves behind much love and many fond memories for all.
A celebration of Helen's life will take place on Saturday May 5, 2018 at 2:00 pm at Pine Ridge Golf Club Winnipeg, MB.
Those wishing to make donations in Helen's memory may do so to the Winnipeg Animal Humane Society.