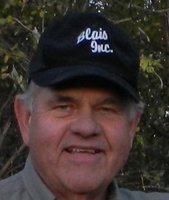 EDWIN (ED) RICHARD "ED" NEWFIELD
EDWIN (ED) RICHARD NEWFIELD
It is with profound heartbreak and sadness that we announce the passing of our beloved husband, uncle and good friend. Ed lost his battle to cancer on March 9, 2018 at HSC at the age of 72.
He will be deeply missed by his loving wife of 35 years, Elaine. Ed is survived by sister-in-law Dorothy of Calgary, brothers-in-law, Cliff Kooistra (Lorraine) and Larry Kooistra (Julie) all of Swan River and numerous nieces and nephews. Ed was predeceased by his parents, George and Katie Newfield; brothers, Walter and wife Dorothy (Kenora, ON), George and wife Peggy (Brandon) and Vern (Calgary, AB). Also, nephews, Rick and David.
Ed was born in Boissevain, MB August 5, 1945 and moved with his family to Winnipeg (Kings Park) in 1950. Later his family moved to Fort Garry and, by this time, he had formed many lasting friendships with boys from Kings Park and, remarkably, they are still close knit today and always there for him. In summer holidays at the young age of 11 or 12 Ed worked in the market gardens in Kings Park and when 15 the summer holidays had him working on road construction with his Dad and he continued with after graduating until 1969 (including working on the Red River Floodway). In 1969 Ed started working at Ideal Filter & Supply in Sales and 'retired' in 2006. By this time he was actively farming at Swan River (suitcase farmer) and started a feed business at Assiniboia Downs which, he ran until 2015 (some days handling as much as 7500 lbs - 1 or 2 bales at a time). Since 2002, Ed has also been distributing and exporting Milled Flax for horses into Western Canada and USA.
Ed has been an avid hunter through the years and has enjoyed snowmobiling and boating. Another love of his is Peonan Point on Lake Manitoba, where he's been going to for over 47 years, especially the "camp" which he bought in 1985, then the land in 2000.
A Memorial Service will take place Saturday, March 17, 2018 at 11:00 a.m. at Whyte Ridge Baptist Church, 201 Scurfield Blvd., Winnipeg.
In lieu of flowers, if friends so desire, donations may be made in Ed's memory to HSC Foundation -Thoracic Surgery, Cancer Care Manitoba or a charity of your choosing.