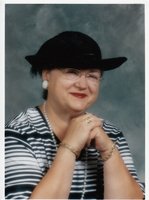 ZOYA BILOZOR
ZOYA BILOZOR
"It is with profound sadness that we announce the passing of Zoya Bilozor on March 9, 2018 at St. Boniface Hospital at the age of 70 years.
She was predeceased by her beloved husband Walter, and parents Nick and Tamara Serhijiw. She is survived by her daughters Zirka and Sofia; grandson Daniel Nicholas; sister Nicki (Ron) Rosen; sister-in-law Ludmilla (Steve) Golub; nephew Richmond (Kim) Rosen; nephew Alex (Amanda) Rosen; nephew George (Lesia) Golub; niece Mary (Bohdan) Wozniak; and their extended families; Uncle Igor (Marylou) Malcyzcki; Aunt Regina (Neil) Dobbins; Aunt Susana Borlak; Gerus, Balko, Zurek cousins; Malczycki, Dobbins family in Arkansas; and many friends.
Zoya was born July 1, 1947 in Buchtel-Schmidgaden, Bavaria, Germany, refugee camp. Her parents were from Ukraine. Her father born in Lviv and mother born in Lidyhiv. She immigrated to the USA in 1949, and was raised in Little Rock, Arkansas. She met her future husband in Winnipeg at a cousin's wedding in 1964, moved there shortly thereafter, and married Walter in 1967. She worked as a librarian and secretary. She was employed with the University of Manitoba-Faculty of Education Library; Red River College; River East School Division; Manitoba Research Council Industrial Technology Centre; and St. Andrew's College. She was a member of Holy Trinity Ukrainian Orthodox Metropolitan Cathedral, the Ukrainian Women's Association of Canada and Manitoba Association of Library Technicians.
Zoya always had a smile on her face. She was warm, kind and caring to all of her family and friends. She enjoyed road trips and travelling with Walter and the girls across Canada and the USA . She spent many summer weekends at Camp Veselka in Gimli, MB, where her daughters attended summer camp. Zoya made beautiful fruit arrangements and was very creative at decorating cakes. Zoya and Walter had a close group of friends that lived in Southdale that would always get together to celebrate life events. Zoya was a true southern belle with a collection of fancy hats, who loved to listen to people, and tell stories with a flair for the dramatic, often with her southern drawl.
Prayers will be held on Friday, March 16 at 7:00 p.m., followed by a light reception; Funeral Service will be held on Saturday, March 17 at 12:30 p.m. – both at Holy Trinity Ukrainian Orthodox Metropolitan Cathedral, 1175 Main Street. Interment to follow at Glen Eden Memorial Gardens.
Pallbearers will be Roman Gerus, Mike Zurek, Oleksa Balko, Antin Muzyka, Jon Morriseau, Matthew Prychun, Will Kaye, Ivas Zulyniak, Ron Sedo, and Larissa Klymkiw.
The family would like to thank the doctors and nurses at St Boniface Hospital and staff at the Dialysis Unit, for such wonderful care.
In lieu of flowers, donations should be made to the Kidney Foundation of Canada, Canadian Diabetes Association, or Holy Trinity Ukrainian Orthodox Metropolitan Cathedral"