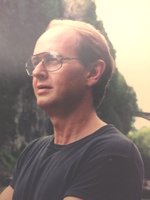 PETER HERBERT DUBIENSKI
PETER DUBIENSKI
May 15, 1950 – March 4, 2018
He Made a Difference
We are heartbroken to announce Peter's passing after a brief illness. Loved by his long-time partner and family and greatly respected by all who worked with him, Peter wove an amazing tapestry of relationships and achievements throughout his life.
Peter is survived by Joseph, his friend and partner of 25 years as well as his siblings: Ian (Melinda, nieces Melissa and Kailey), Jennifer (Gary Scherbain, nephews Darren and Kevin, nieces Amy and Stephanie), Philip (Shirley Timmins, niece Courtney), Michael (Debbie Namaka, nephew Stephen and nieces Katherine, Emily and Jessica), and Marie-Louise "Mimi" Harris (Don Harold, nephews Robert and Patrick), cousins John Ralston Saul (Right Honourable Adrienne Clarkson) and Alistair Ralston Saul (Lavender), and special friend Bonnie Heath.
Peter was predeceased by his nephew Daniel and by his parents, Jocelyn and Judge Ian V. Dubienski. Peter followed his parents' paths of commitment to social and judicial fairness.
Peter showed his talents for leadership, mentorship and managerial skills early on by organizing the Winnipeg wide high school student council association while President of the student body at Kelvin High School.
Peter began his career with the Manitoba Civil service in 1972. He worked for a number of years in frontline adolescent social services and adult training programs most notably as Director of New Careers. In his years there he worked diligently to enable employment opportunities for visible minorities. His identification with clientele and working associates was paramount; many of those mentored by Peter remained close to this day.
As the years passed Peter became a pivotal player in Manitoba Child and Family Services. He held positions as Executive Director of Employment and Training with the Department of Education and served as the Regional Director, Health and Social Services in Winnipeg.
After having served briefly as the CEO of the Manitoba Adolescent Treatment Center, Peter was appointed Assistant Deputy Minister of Child and Family Services. During this time Peter was responsible for leading the strategy regarding the restructuring of Manitoba's Child Welfare System with the Aboriginal Community. In 2014 Peter was appointed as the Provincial Administrator for the Southern First Nations Network of Care. His ability to listen, understand and communicate was integral to every role Peter undertook and his compassion for all was a defining characteristic.
Following retirement in 2016, Peter continued his dedication to social justice. His last endeavour was to work with St. Amant Centre to develop a more comprehensive Indigenous childcare strategy.
Peter touched the lives of many others through volunteer board commitments with Rossbrook House, Children's Home of Winnipeg, United Way and Canadian Mental Health Association to name but a few.
But Peter's life wasn't just focused on work. He was long devoted to physical fitness and maintained connections with his Delta Kappa Epsilon "Deke" fraternity brothers. Over the years Peter had many devoted canine companions, most recently Thor, Kayla and Pepe. He loved Lake of the Woods and spent many happy times at the family cottage and developed many life long friendships through Manitoba Pioneer Camp, the latter having a tremendous influence on the development of his compassionate nature and leadership skills.
During his illness, Peter received tributes and messages of hope and prayers from countless people. We are sure Peter felt your love and support during these last two months. We would especially like to thank the Grace Hospital Emergency Team for their speedy diagnosis and the Health Science Centre - Neurology Department Intensive Care Step Down Unit for their kind and expert care, especially Dr. Beiko.
A celebration of Peter's life will be held at 2:00 p.m. Friday, April 6 at St. George's Anglican Church, Grosvenor and Wilton.
In lieu of flowers donations in Peter's memory may be made to the charity of your choice.