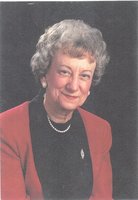 STEPHANIE BILYJ
STEPHANIE BILYJ
Stephanie Bilyj passed away on March 3, 2018.
She was predeceased by her husband, Wasyl; father, Harry Antoshkiw; mother, Magdalyna (Bewza); and cousin, Michael Antoshkiw.
Left to cherish her memories are daughters Diane and Adrienne (Kurt), and grandson Michael.
Stephanie was born in Winnipeg, MB and was raised in the North End.
She attended Faraday and Isaac Newton Schools, later going to Success Business College. In 1947, Stephanie was stricken with tuberculosis surviving two surgeries and spending six years in recovery, of these, more than three years at Ninette Sanatorium. Shortly after Ninette, Stephanie married Wasyl Bilyj in 1953 and was widowed in 1963.
Stephanie was employed with Pitfield, MacKay, & Ross Investments for 11 years and the Winnipeg School Division Special Education Department for 23 years as Administrative Secretary until her retirement in 1997.
Stephanie was a dedicated member of the Ukrainian Catholic community. She served as Catechism Coordinator at Blessed Virgin Mary parish for 12 years and was a member of the Ukrainian Catholic Women's League of Canada since 1971 holding executive positions at National, Provincial, Regional, and Branch levels. She also held an executive position on the Ukrainian Canadian Women's Committee. Most recently, Stephanie served as Archivist on the U.C.W.L.C. National and Archeparchial levels and as a representative for their national publication Nasha Doroha.
Among many proud achievements were membership in the Millennium Choir, which sang for Pope John II in Rome (1988); serving two 4-year terms as President of the Ukrainian Catholic Council of Manitoba (1995-2003), being the first female President of BVM Parish Council (2002-2015), and receiving the U.C.W.L.C. Honorary Life Member Award in 2001.
Stephanie was a tireless advocate of Catholic Social Justice. Her work included writing letters to MPs requesting abortion bill vetoes, organizing that U.C.W.L.C. branches receive petitions against abortions and euthanasia, membership in League for Life, and membership on a committee that presented a brief to the MB Government on poverty, abortion, euthanasia, and compensation of caregivers.
Stephanie was a mentor and all who knew her marveled at her strength, humility, compassion, and hard work.
Our grateful thanks to Reverend V. Bashutskyy, Palliative Care nurses Jennifer and Carol, and nurses Nichole and Carol, and the staff at Riverview Health Center.
Rosary will be Friday, March 9 at 6:30 p.m. followed by Prayers. Divine Liturgy will be celebrated by His Grace Metropolitan Lawrence Huculak and Reverend V. Bashutskyy on Saturday, March 10 at 10:30 am. (the Liturgy will be interpreted). Both services will be held at Blessed Virgin Mary Ukrainian Catholic Church, 965 Boyd Avenue with interment to follow.
Pallbearers will be Michael Bilyj, Myron Drepko, Walter Epp, Bill Harrison, Terry Krowchuck, and Rostyslav Surowy.
In lieu of flowers, donations can be made to Blessed Virgin Mary Church, Siloam Mission, and Holy Names House of Peace.
Vichnaya Pam'yat