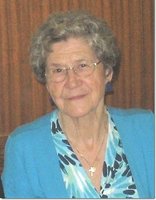 SOPHIA KAWALER
SOPHIA KAWALER
(nee Kiernicki)
It is with profound sadness that we announce the passing of our dear wife and mother Sophia Kawaler on March 3, 2018, surrounded by her loving family at her side.
Left to cherish her memory are her beloved husband John of 69 years, her beloved daughter and best friend Valerie Balla (Ken), her beloved sons, Ronald (Christie) and David (Karen); her dearly loved grandchildren, Aaron Balla (Nicole), Marian Polakoff (Nathan), Daniel Kawaler (Kelly), Stephanie Wall (Nick), Laryssa and Andrew Kawaler; her precious great-grandchildren, Sarah, Emily, Olivia, Ian, Sofia, John and Amy. She is also survived by her dear sisters, Martha Hnatishin, Ollie Bauer, Antoinette Kolodiejchuk and Helen Charrier; her sisters-in-law, Mary Kiernicki, Mary Harrison, Elsie Baryluk (John) and many nieces and nephews. Sophia was predeceased by her parents Stephen and Katherine Kiernicki; brothers, John and Michael; sister Ann Grycki and infant brother Peter; her in-laws, John & Maria Kawaler and extended family members.
Mom was born in Pine Ridge, MB on January 12, 1932, later moving to Cooks Creek where she met and married our Dad in 1948. They resided in Oakbank, MB, moving to Transcona in 1958 where she presently resided. Mom's favorite past time was cross stitching beautiful Ukrainian blouses and shirts, Easter Basket covers and pictures for her children and grandchildren. During the summer, Mom could always be found tending to her garden and teaching her gardening skills to all of us. Although she loved her family dearly, her God and Church were most important to her and she instilled this strong faith in her children and grandchildren. Mom was a faithful member of St. Michael's Ukrainian Catholic Church and was also a member of the U.C.W.L.C.
Divine Liturgy will be celebrated on Thursday March 8, 2018 at 10:30 a.m. at St. Michael's Ukrainian Catholic Church, 400 Day Street. Her pallbearers will be her grandchildren.
In lieu of flowers, donations may be made in Sophia's memory to St. Michael's Parish or to a charity of your choice.