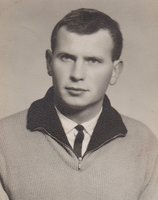 KAREL ANTONIN MORAVEK
KAREL ANTONIN MORAVEK
SEPTEMBER 11, 1942 – FEBRUARY 9, 2018
Early Friday, February 9, 2018, our husband, father, step-father and grandfather passed away after a battle with cancer.
Left to cherish his memory are Karel's wife of 22 years, Connie McCorrister-Moravek (nee Strutt), daughter Renata Recnikova (grandsons Daniel, Dominik), son Earl Moravek (grandchildren Paris, Madison, Austin), and step-children Sean McCorrister (Nicole) (grandsons Kelly, Matthew, Jared) and Sabrina McCorrister-White (Brad) (grandchildren Riley, Brady, Danika), along with many brothers and sisters-in-law.
Karel was predeceased by his grandparents, parents Karel Moravek (Sr) and Bozena Moravkova (nee Vycichlova) and brother Yiri.
Karel was born in Hradec Kralove, Czechoslovakia where he received his elementary and high school education, followed by Electrical technical training and Army medic training.
He came to Canada in October 1968 and settled in Brandon MB for over 30 years.
Karel completed his BGS and Electrical Technologist Certification (CET) in Canada through ACC, RRC, U of M and Brandon University, while working for Manitoba Hydro in various positions; finally as a Technical Support Specialist. He and Connie moved to Winnipeg in 1999 and after a career spanning nearly 40 years, Karel retired in December 2008.
Retirement was filled with travel, with Karel's time and energy devoted to God through family, Church, Knights of Columbus, and most recently the Equestrian Order of the Holy Sepulchre of Jerusalem. He felt blessed to be able to share his talents in various positions with the K of C culminating with the Master of the Fourth Degree, Manitoba District.
A prayer service will be held at 7:00 pm, Tuesday, February 20 at Cropo Funeral Chapel, 1442 Main St. Funeral Mass will be celebrated at 11:00 a.m. Wednesday, February 21 at Mary, Mother of the Church, 85 Kirkbridge Dr. Interment will take place at St Boniface Cemetery, 917 Archibald.
In lieu of flowers, the family respectfully requests a donation made in Karel's memory to a charity of your choice.