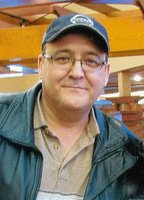 JAMES JOSEPH ROYCE CARPENTER
JAMES JOSEPH ROYCE CARPENTER
May 3, 1959 – February 6, 2018
It is with deep sorrow that we announce the passing of James (Jim) on February 6, 2018 at the age of 58, following a courageous battle with cancer. He leaves behind memories of his great sense of humour, which he never lost.
He was predeceased by his parents Cecile and Royce.
Jim is survived by his loving wife Joyce and step daughters Danielle and Carla. Jim was very close to niece Katherine and her husband Richard and their five children Miranda, Natalee, Zackary, Noah and Lydia. Jim is also survived by his two sisters Lucille (Gerald) and Laura-Lee (Larry), many aunts, uncles, nieces, nephews, and cousins.
Jim was employed for 34 years with Winnipeg Transit. Jim loved to cook and was known especially for his French onion soup. He was a champion cribbage player, who hated to lose, and an avid hunter and golfer when he was younger.
The family would like to thank Dr. Mayba, Dr. Daeninck, the Palliative care teams at St. Boniface Hospital and Riverview Heath Centre. Thank you to Brandy and all the other medical staff who provided care to Jim in his home.
A Memorial Service will be held at Cropo Funeral Chapel, 1442 Main Street, on Monday, February 12, 2018 at 7:00 p.m.