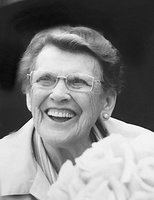 CATHERINA BOS
CATHERINA BOS
(nee Verhoeven)
November 20, 1918 – February 6, 2018
Catherina (Mama, Oma, Great Oma) passed away peacefully February 6, 2018 at the age of 99 at the Middle Church Personal Care Home in Winnipeg. Catherina was predeceased by her late husband Henry Bos (1966); - late son John Bos (2017); - survived by grandson Gary Bos (Jen) of Niagara On the Lake, late son Henry Bos (2017) (Sabina). Also left to cherish Catherina's memory is daughter Elizabeth (Jack Lankhout 1988); - granddaughter Anita (Ken Kiernicki) and great granddaughters Cassandra & Marissa. - grandson Ron Lankhout (Darcy) and great granddaughters Mikayla & Brylee. Catherina is also survived by son Ted Bos (Sharon); - grandson Cory and great grandson Liam (and Liam's mom Brooke), step-grand children Ainsley (Ian), Jordan (Nia), Dustin (Jessica) and Dillon.
Catherina was also predeceased by husband Frank Breuer (1990); and is survived by step-sons Ted Breuer (Helen 2008), Tony Breuer (Pat 2017), step-daughter Rita (John Olthof 2015) and their children & families in Canada and the Netherlands.
Catherina was born in the town of Mill, in the Netherlands on November 20, 1918; to parents Theodore & Elizabeth Verhoeven. Catherina was predeceased by all the following of her siblings and their respective spouses, her brother Jan (Els), sister Elizabeth (Piet) and sister Jet (Piet) and is survived by many nieces, nephews and extended families in the Netherlands.
Catherina & husband Henry immigrated with their three children John, Elizabeth & Henry from the Netherlands in 1956 aboard the ship named the "Zuiderkruis" landing at Pier 21 in Halifax and then making their way by train to Winnipeg. In 1960, son Ted, would be their Canadian addition to the family.
Mom was a strong independent, passionate woman, full of fire and positive spirit. She loved life and it was the simple things that made her smile; music, dancing, laughing and games. Mom also enjoyed traveling back to the old country Holland, also winter vacations in Spain & Portugal. Mom's travels also took her to many destinations in Europe, Canada & the USA. Mom was an active member and volunteer of the Dutch & German Club Societies of Winnipeg for many years and helped both clubs with their Folklorama Pavilions.
Mom's little castle on Kilbride Ave. in West Kildonan, was always the main attraction for daily visits by friends & family for years. A strong cup of coffee with grilled Dutch Gouda cheese sandwiches & awesome home cooked meals were always ready to be served 24/7, along with happy hour specials. Mom would always be wearing her cooking apron and who could ever forget her big smile and the famous wave at the living room window when we would drive away. Mom's home provided the basis & atmosphere of love, music & laughter. Above all, Mom lived for her family. Despite enduring the hardships inherent in surviving the depression, war, immigration, and loss, she always managed to find the true beauty in life. Mom was very grateful and proud of her family and her little home, telling stories of cherished memories formed over a lifetime with those near and dear to her heart.
Catherina lived a full life and was very thankful for the long life she had, but now it was time to go, setting out her journey to reunite with the loved ones she missed so dearly. Job well done. Mom, we are all so grateful. You put on your own "Master Class" of living life in a simple, happy and fulfilling manner. We will keep smiling, laughing, dancing and waving as you always did. We love you to the moon and back!!
The family would like to thank the staff at the Middle Church Personal Care Home for their compassion and care to our mother the past 5 years.
Cremation has taken place and a small family memorial service & celebration of Catherina's life will take place at a later date.
"Rust in Vrede"