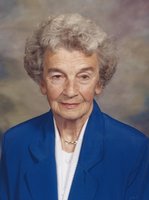 HELENA JULIA GABRIEL
HELENA JULIA GABRIEL
May 20, 1920 – January 18, 2018
It is with deep sorrow that we announce the passing of Helena Gabriel at the SOGH on Thursday, January 18, 2018.
She is survived by her son George (Bernadette), grandchildren Mark (Karen) and Betty and great grandsons, Gabriel and Noah and several nephews.
She was predeceased by her husband Marcin, her brother Bruno, wife Leokadia and both of her parents.
Mom was born and raised in Sokolow Mlp., Poland, where she worked as a librarian. In 1961, together with her family she emigrated to Canada to be with her brother and dad in Winnipeg. After trying work as a seamstress, she found employment as a bookbinder at the Art Bookbindery where she stayed for over thirty years. During that time she developed a deep friendship with her son's mother-in-law Stefa, and they became inseparable till well into their golden years. In their retirement, they enjoyed frequent bus trips to the American casinos, where they socialized, gambled a bit and had fun. Mom was a very kind, caring and giving person. She loved spending time with her grandchildren as they were growing up and acted as their trusted mentor and confidant. She was a wonderful mom, grandma (babcia) and a friend and will be sorely missed. Mom spent her last few months at the Luther Home where she received excellent, compassionate and tender care. Our heart-felt thanks to all the staff at the home and especially those at the South Station.
Mass of Christian Burial will be celebrated on Saturday, January 27, 2018 at 10:00 a.m., with Rosary at 9:30 a.m. at the Holy Ghost Church, 341 Selkirk Ave. with an Oblate Father presiding. Interment to follow at the Holy Ghost Cemetery.