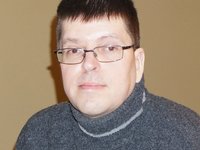 ROMAN PETER HANUTA
ROMAN PETER HANUTA
March 31, 1967 – January 8, 2018
Unexpectedly, Roman Hanuta passed away on January 8, 2018.
Roman is survived by his mother, Olga and his sister, Irene and husband, John Teillet. He also leaves to mourn his uncle Steve Szymanski, cousins Donna Szymanski (Garett) and family, Christine Szymanski (Todd) and family and Linda Bretecher (Ray) and family. Roman was predeceased by his father Nick in 1991.
Roman experienced many challenges and bad luck in life, including life-alternating injuries in a car crash in 1992. But, he kept on trying and trying. Roman enjoyed watching wrestling, fixing cars and shopping. He was always on the look-out for a bargain and knew the prices of every grocery item. Roman kept engaged with his family and cousins and was loved by all. As his mother, Olga, was his care-giver for his lengthy recovery after the car crash, he became his mother's compassionate care-giver for nearly two decades. Roman was a devoted son and brother. He will be sadly missed.
Appreciation to the Winnipeg Fire Paramedic Service and the Winnipeg Police Service for their professional service and compassion. The family is grateful to cousin Linda for all of her help.
A Funeral Service was held on Friday, January 12 at Cropo Funeral Chapel with burial in the All Saints Ukrainian Catholic Cemetery.