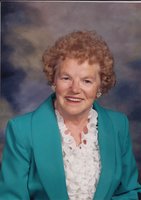 GENOWEFA MORDARSKI
Genowefa (Genya, Babcia or Jean) passed away peacefully January 10, 2018.
During her brief illness, she was constantly aware of the love of her family and friends who held her so dear. She was predeceased by her husband Wladyslaw in 1988.
Genya was born January 3, 1924 in Stary Broniszew, Poland. At age 17, she was taken from her home by German soldiers to be a slave labourer on a farm in Germany. During the war, she met Wladyslaw, they married in February 1946 and in 1948 Adam was born in an allied war camp in Altenstadt, Germany. As Displaced Persons, Mom and Dad made the decision to immigrate to Canada. Dad arrived in June 1949 and Mom and Adam followed in March 1950.
Genya is survived by three sons: Adam and his children Josh and Karen (Curt Sovak); Henryk, wife Elizabeth Nadurak and daughter Katie (Alex Baxter); and Edward, wife Pamela and family. Babcia loved her children, their spouses and grandchildren deeply - her devotion to all of us was boundless. She and her grandchildren especially cherished their time together gardening, cooking, sewing, dressing up, playing, having fun and making joyful memories. Her ever present smile will be sorely missed and she will be in our hearts forever.
Known as Jean to her neighbours and to the many seniors dancing groups she danced with, Genya loved to dress up, dance and meet new people. She made many long term friendships through dance. She loved to be a part of her neighbourhood, enjoyed neighbourly get-togethers and was always willing to share with others.
The past nine months were difficult for Mom but were made comfortable by the exceptional medical and compassionate care provided to her. Special thanks to Winnipeg Fire and Paramedic Services members who treated Mom, the wonderful staff at Concordia Hospital, the caring staff and residents of Misericordia Health Centre, and at the end, the compassionate nurses at Grace Hospital.
Genowefa's Funeral Mass will be held Saturday, January 13, 2018 at 10:00 a.m., following viewing at 9:30 in Holy Ghost Church, 341 Selkirk Avenue. Interment will follow in Holy Ghost Roman Catholic Cemetery, 4387 Main Street.
In lieu of flowers donations may be made to Winnipeg Pet Rescue Shelter, 3062 Portage Avenue, Winnipeg, MB. R3K0Y1