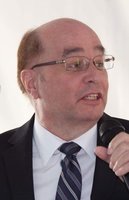 VINCENT ANTHONY CHARTIER
VINCENT ANTHONY CHARTIER
It is with deep sadness the family announces the passing of a beloved husband, father, brother and friend. Vince passed at the St. Boniface Hospital on Wednesday evening November 29 2017.
Vince was born in Fort William on March 30, 1960. He spent his school years in the Toronto area. Then at the age of 17 he moved to Winnipeg to be with his siblings.
He was predeceased by his Father (Gus) in 1990 and his Mother (Alice) in 1997.
He is survived by his wife Deborah, after 32 years of marriage, his sons Tyler and Everett. His father and mother-in-law Bruce and Anne Routley, sisters Sharon (Tom) Celeste, Sheila (Claude) and his brothers Duane, Sheldon (Rita) and Kevin and many nieces and nephews and his goddaughter Angela (Marc), close friends Wayne, Kathy, Eveline, Larry, John and Sharon.
Vince had a passion for speed, he raced professional motocross bikes in his early teens all through the United States for team Suzuki. In his late twenties he started to attend car races in Canada and US with his friends Wayne, John and Larry, when his boys were born he took them to the car races. Vince also had a passion for collecting cars, from die cast to petal cars. His love for cars pursued him to have a career in the automotive industry. In 1983 while having lunch at McDonalds Vince met the other love of his life, Deborah. On September 21 1985 they married at Knox United Church. In 1988 they had their dream home built in North Kildonan, where they lived for 29 years and was lucky to be a part of a kind hearted neighbourhood with wonderful neighbours. In1995 their first son Tyler Bryce was born and 3 years later Everett Parker was born. Vince loved to watch his boys play football, he said it was more enjoyable then watching professional football. He loved to have parties with his friends and family, there were many Grey Cup and Super Bowl parties. It was the perfect time to showcase his quick wit, he always had a one-liner. Vince also loved to shop, there were many years we attended Black Friday sales in Grand Forks and Fargo, and shopped in St Thomas and Cozumal and other places. The family went on many holidays with Bruce and Mom (Ann) and friends.
Over the past 4 years Vince fought a courage battle with his illness, he never complained and never gave up however after using up his nine lives his battle ended with his family and friends by his side. A special thank you to the team of nurses and doctors at St. Boniface Hospital in the ICU and to Dr. Barry MacMillan.
A celebration of his life will be held on Thursday December 7 at 2:00 p.m. at Cropo Funeral Chapel, 1442 Main Street.
In lieu of flowers a donation in Vincent's memory may be made to the Canadian Diabetes Association.