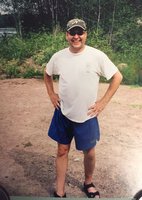 DR. BRIAN HUFF
DR BRIAN HUFF, DDS
On Nov 25th Dr. Brian Huff left our world and started his next adventure. While here he humoured us all with his presence - fortunately leaving us with cherished and everlasting memories. Brian had a way of making those around him feel special and important. Brian was passionate - his thoughts, his opinions, his hobbies, his profession and his football picks - some may say to a fault. But more precisely, a rare quality. He was predeceased by his Mother Joan - a treasured relationship and guiding voice in his life. He loved her every day she was here and missed loving her every day since she was gone. Brian leaves to mourn a plethora of heavy hearts. We all wonder why you had to go but we were better because you were here.
There will be a celebration of life for Brian on Sunday, December 17 from 1-4 pm at the Winnipeg Winter Club.
Tribute starting at 1:30 pm.
Please join us for the afternoon to share memories of Brian. We welcome and encourage any pictures
to share if desired.