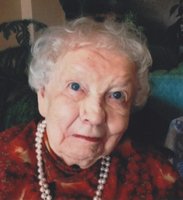 NETTIE SALAMANDYK
NETTIE SALAMANDYK (GUSTA)
(nee Malowany)
1922-2017
On November 30, 2017, Nettie passed away at Tudor House Personal Care Home in Selkirk, MB at the age of 95.
She was predeceased by her first husband Nick Gusta in 1997 and her second husband Sam Salamandyk in 1998.
Nettie was born May 15, 1922 in Libau, MB to John and Victoria Malowany. She had eight siblings: Mary (Joe Casina), Anne, Peter (Shirley), Katie (John Semenowich/Mike Krawchuk), Rosalie (Delmar Davies), Michael (Phyllis), Carolyn (Chris Ogilvie), and Pearl (Paul Sherby).
She is survived by two daughters: Doreen (Lawrence) and Donna (Harv); four grandchildren: Jennifer, Lauren, Kevin and Karen as well as four great-grandchildren: Ryan, Isaac, Gillian and Toyo, and many nieces and nephews.
Nettie married Nick Gusta in 1941 in Libau, MB. Together they built their farm home in East Selkirk. Nettie enjoyed her garden and worked hard at everything that came with owning a mixed farm. She was also an excellent cook and always had plenty to share with whoever might drop by.
Nettie left the farm in 1964. She later married Sam Salamandyk and lived in Stuartburn, MB until his passing. She was admitted to Tudor House Personal Care Home in Selkirk on July 20, 2001.
The family wishes to thank Tudor House Personal Care Home for their compassion and care over the years.
Funeral Service will be held on Wednesday, December 6 at 10:00 a.m. at Cropo Funeral Chapel, 1442 Main St. Interment to follow at Senkiw Cemetery, Senkiw, MB.
Flowers are gratefully declined. If one so desires, donations may be made to the Alzheimer Society of Manitoba.