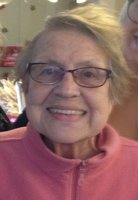 HELEN MARTIN
HELEN MARTIN
(NEE KLYMUIK)
It is with deep regret that we announce the passing of Helen, beloved wife of Jack, at Poseidon Care Centre on November 24, 2017.
Besides her husband, Helen is survived by her daughter Janet; sons Ken, Terry (Linda), Jeff (Heather); grandchildren Xanthia, Chloe, Jackson, Alexandria, Finn and Cooper, and brother Walter (Phyllis).
She was predeceased by her parents Kalana and Peter and her brother Bill.
Mom's life revolved around family; her life's purpose was caring for her children and doting on her grandchildren.
After the children were grown, Helen and Jack enjoyed travelling throughout North America in their RV.
It is with a heart of love and relief that we say goodbye to the earthly body of Helen as we continue to dance with her lively spirit for now and always.
A private family interment will take place at a later date.