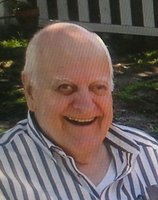 ANGELO TSAPRALIS
ANGELO TSAPRALIS
It is with regret that we announce the death of husband, father, grandfather and great-grandfather on Sunday, November 12, 2017.
Angelo was born in Athens, Greece, on June 25, 1932. He immigrated to Canada in 1951 by himself and landed in Halifax with later working his way west where he finally settled in Winnipeg. He was part of the fundraising pioneers who gathered at the Greek House prior to the first St Demetrios church on Furby, sang in the choir of the church and taught Greek School in those early years.
Having worked at several restaurant establishments as well as the Dew Line he established his own restaurant franchise that was named Angelo's Pizza House. From those restaurants grew a need to service and deliver wholesale foods to restaurants in the city so he opened up a commissary and food distributor named Pennicker's. His last venture was something he always wanted in our city which was a market for our community to have our ethnic foods available and so the Greek Market was created.
He had two interests in his life; one was music which he developed as a chanter in the Metropolis in Athens and secondly, his love of art. Angelo was to pursue a career in architecture in Switzerland, however with the sudden loss of his father who was a professor in Fine Arts at the University of Athens, he decided to change his fate and venture to Canada. He did dabble in painting and drawings in moments of leisure.
Angelo is survived by his wife Emily, his daughter Penelope (Athanasse), his son Nicholas; his grandchildren, Angelo (Amanda) and Daniel; and his great-grandchildren Alexandros, and Andonis.
Special thanks to the St Boniface Hospital Cardiac Unit who looked after Angelo with respect and dignity.
Funeral service will be held on Saturday, November 18 at 11:00 a.m. at St. Demetrios Greek Orthodox Church, 2255 Grant Ave., Winnipeg.
If so inclined, please send a contribution in Angelo's memory to the Manitoba Greek Cultural Centre, St. Demetrios Greek Orthodox Church or the Greek School.