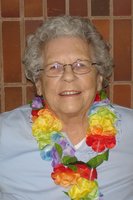 JENNIE MARYCH
JENNIE MARYCH
Nee: Cymbalisty
It is with deep sadness that we announce the passing of our Mom, Baba and Great Baba on November 2, 2017 at the age of 92 in Winnipeg, MB
Predeceased by husband Bohdan (Bud) who passed away on September 5, 1972; parents Nellie and Stanley Cymbalisty; sisters Polly Tomchuk (John), Mary Tomchuk (Dan), Anne Genyk (Nick), Dora Kuryk (Paul); brothers Nick Cymbalisty (Doreen), John Cymbalisty (Ruth), Joe Cymbalisty (Karin).
Survived by daughters Audrey Gibson, Margaret Grozny (Rick); granddaughters Darla Gibson, Deidra Hunter (Sean), Katelyn Erickson (Dave) and great granddaughter Leah Hunter; her sister-in-law Doreen Cymbalisty and many nieces and nephews.
Mom was born in Fisher Branch, Manitoba, and there met and married Bud Marych where they farmed until their move to Winnipeg. She had various jobs, but the one she enjoyed most was selling shoes at Eaton's. She was a terrific salesperson and made many friends there.
Mom's home was always warm and welcoming to all. She was a fabulous cook, loved to crochet and garden, but her greatest love was for her family. We love you very much too Mom.
A donation may be made to the Heart and Stroke Foundation in her name. A private family service was held for Mom.