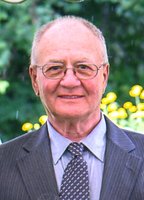 WILLIAM KOSOWAN
WILLIAM KOSOWAN
Bill's life began on December 15, 1941 on the family farm near the small town of Gardenton, Manitoba, one mile from the Canadian-USA border. The youngest of the Kosowan children, Bill never complained of the farm life or workload; a trait of unselfishness and hard work he would continue throughout his entire life.
As a child, Bill would develop one of his many passions, the game of baseball. He would often pitch four games a day with his neighbours and school mates at Lord Roberts and Purple Bank schools. His lifelong passions of hunting and fishing also began as a child and continued throughout his life.
After high school, Bill took his experience and knowledge of growing up on the farm and began working at a garage in Tolstoi and John Deere dealership in Dominion City as a gas/diesel mechanic. Along the way he would meet his beautiful Joan and be married in 1966. Leaving the farm life, but not forgetting where they came from, Bill and Joan moved to Winnipeg. While working at Agro Equipment, Bill would complete his apprenticeship and become a licensed Red-seal Journeyman in February 1968.
In October of 1968, he would start a career with the City of Winnipeg that would span nearly 35 years of service. After nine years at the City Works and Operations Department as a heavy-duty journeyman mechanic, Bill joined the Winnipeg Fire Department as a fire truck mechanic and was promoted to the Supervisor of Emergency Mechanical Services in 1990. Nearly thirteen years later, Bill retired in June 2003.
Bill took on many extra work commitments such as helping at the community club with repairs and grounds keeping, helping his neighbours with various jobs, and even started a garden rotor tilling business.
With the birth of their two boys who joined them in forming their family, Dean in 1974 and Jeffrey in 1976, all of Bill's commitments took a back seat to his foremost passion, his family.
With his beautiful wife Joan, Bill loved gardening, cutting grass and wood, picking berries and mushrooms. They enjoyed going on nightly bike rides or walks, cross-country skiing at Bird's Hill Park, and weekend drives to the farm to unselfishly take care of his parents and helping his in-laws whenever required without question.
Bill taught his children how to ride a bike, to skate and play hockey, shoot bows and guns, ride dirt bikes and snowmobiles, and drive cars. He taught them how to tie fishing knots and cast a lure, drive a boat, and fix their own vehicles.
Bill enjoyed baking and cooking, tinkering in the garage and work on maintaining their home. He possessed the ability to build and fix anything. Bill and Joan's annual shopping trips to Grand Forks were a must as he always was looking for new hunting equipment, fishing tackle, and clothes for the granddaughters.
With retirement, Bill enjoyed countless days hunting and fishing with his sons, spending endless hours outdoors with his wife of fifty-one years, and storytelling around a campfire at West Hawk Lake with his two granddaughters Anna and Madeline. He loved his granddaughters with all his heart. Retirement even allowed Bill to join the monthly perogy making crew at the Holy Trinity Cathedral and became building manger as well.
His endless energy and passion for helping others will be undoubtedly missed by everyone Bill met through his nearly seventy-six years of life. His legacy of being kind to all and never letting anybody down will go unmatched and never forgotten. Loving husband, dad, gege, friend, and neighbour. We will miss you Bill. Dad, we love you.
On November 5th, 2017 at St Boniface Hospital, Bill's eighteen-month battle with cancer came to an end at 1:50 p.m.
He was predeceased by his parents John and Pauline Kosowan; brothers Tony, George, and David. Bill is survived by his wife Joan (Masyk); sons Dean (Nicole) and Jeffrey (Leanne); granddaughters Anna and Madeline; sister Bernice (Albert), brother Harry (Janette), and sister-in-law Mary.
A memorial service will be held at Cropo Funeral Chapel at 1442 Main Street on Friday, November 10th, 2017 at 7:00pm.
At Bill's request, cremation has taken place and a private family burial will be held at a later date.
In lieu of flowers, donations can be made to Cancer Care Manitoba, Heart and Stroke Foundation, or Holy Trinity Cathedral 1175 Main Street.