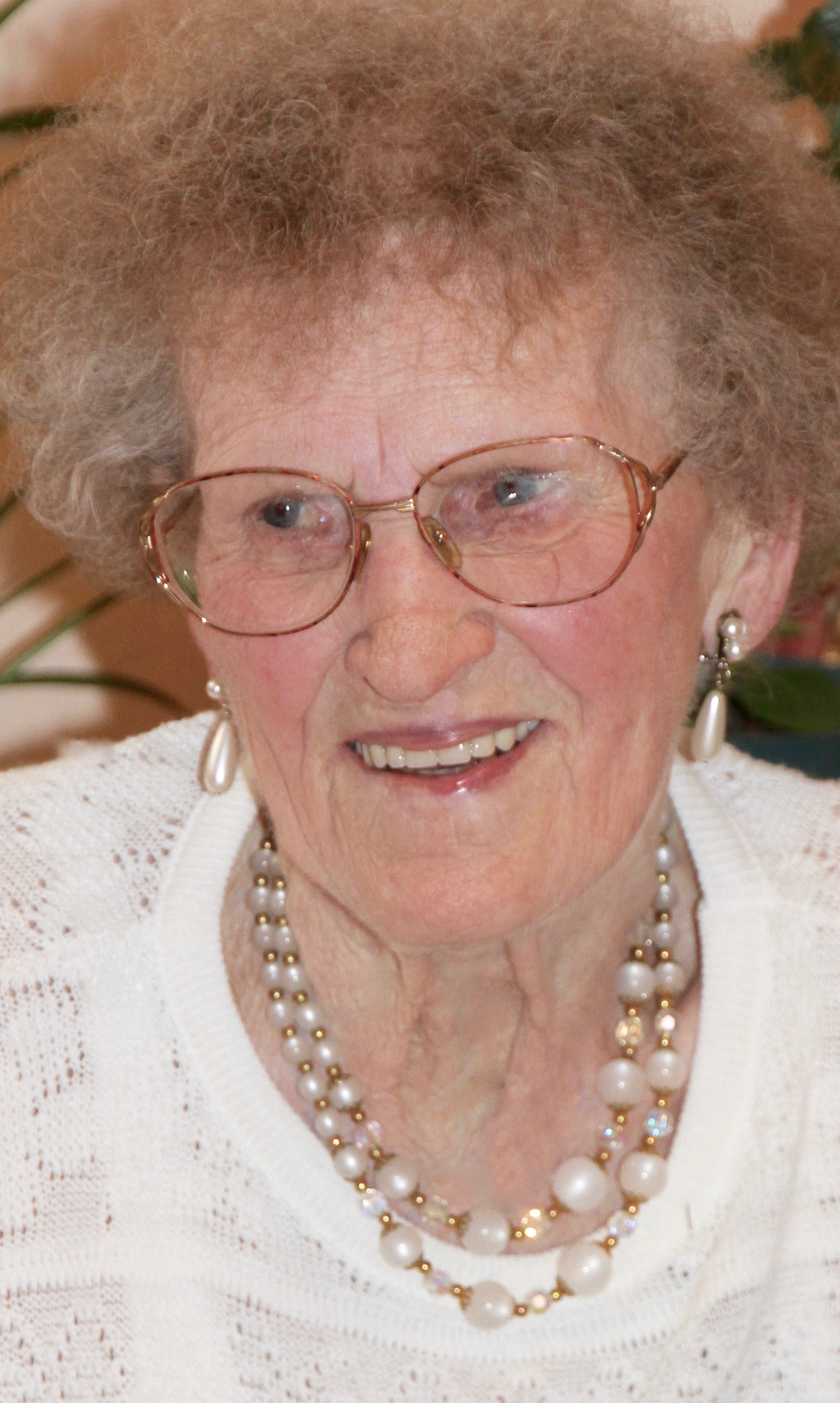 FRANCES HYDE
FRANCES BERNADETTE HYDE
Née: NOVAKOWSKI
May 31, 1925 – October 5, 2017
With great sadness we announce the peaceful passing of Frances Hyde in her sleep on October 5, 2017 at the Middlechurch Home of Winnipeg.
Frances was born on May 31, 1925 in Narol, Manitoba, the sixth of seven children of John and Eleanora Novakowski. Growing up on her parents' farm nourished a great love for gardening and flowers which lasted throughout her lifetime. Undoubtedly that same farming environment contributed to Frances's tenacity and the determined spirit that served her so well to her last breath.
A lover of adventure, Frances left Winnipeg for Stratford, Ontario in the early 1950's where she met and married Russ Hyde in 1958. Surrounded by family and friends in Stratford, Frances greatly enjoyed her work with Cambridge Knitting and Kroeler Furniture Canada. Following Russ's passing after 25 happy years together, she returned to Winnipeg in 1982 where she found comfort in family, her garden, and her life-long faith. Never one to sit idle, Frances took many trips across Canada and the United States collecting memories and souvenirs. She and her family took great pleasure in her collection of vintage holiday decorations which popped up at appropriate times throughout the year.
Frances was predeceased by her mother Eleanora, father John, and brothers and sisters Tom (Elsie), Bert (Victoria), Jean (Steve), Minnie (Frank), and Joan (Russell).
Left to cherish her memory are her brother Alex Novak (Theresa), nieces and nephews Claudette Novak (Tom), Robert Novak (Debbie), Charles Novak (Sonia), Sherrie Novak, Brian Gudge (Debra), Ron Gudge (Denyse), Jerry Novak (Robin), Tom Novakowski, Ron Novakowski, Vance Gaynor, and Ken Germain as well as many great and great-great nieces and nephews.
The family would like to thank the staff at Middlechurch Home of Winnipeg for the exemplary care they provided to our sister and aunt.
Frances moved through life blessed with an indomitable spirit and the ability to view the beauty of nature with boundless pleasure. We miss her so very much.
Visitation will be held on Wednesday, October 11 at 10:00 a.m. at Corpus Christi Roman Catholic Church, 5819 Henderson Hwy., Narol with Mass of Christian Burial being celebrated at 10:30 a.m. with Rev. Fr. Joshua Gundrum presiding. Interment to follow in the Church Cemetery.
In lieu of flowers, please consider a donation to the Middlechurch Home of Winnipeg or Corpus Christi Roman Catholic Church, Narol, MB.