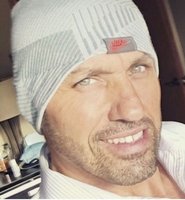 ELIAS VIEIRA
ELIAS VIEIRA
Sunday was perfect and beautiful as we were able to spend the whole day together as a family and with close friends. Who knew that by tomorrow night, you would be gone and our world would be changed forever.
On Monday, August 7, 2017, at the age of 48, an angel came down to Earth, wrapped her wings around you and carried you up to Heaven.
Eli was predeceased by his father, Jose Teixeira on October 2016. He leaves to mourn his passing, his wife Florence Jean (nee Jandrasics ), his sons, Tyler, Tevyn, Treyton, Jordan and Nakinan; his mother Maria Jacinta; sisters Maria Cassidy (Steve), Diane Kasur (nee Jandrasics) (Dale); brothers Joe (Anita), Gaspar; nephews Brandyn and Mateo; his beloved niece Lola and many extended family.
Eli immigrated to Canada at the age of six with his parents and siblings, settled in Toronto for a year before moving to Winnipeg. He grew up in the North End and attended Tec Voc High School where he met the love of his life, Jean in 1987. Soon after graduation they married in 1991, shortly after they were blessed with three beautiful sons.
Eli played a huge part in the community. His passion was playing football so he joined the Tec Voc Hornets then moved on to the Winnipeg Hawkeyes Organization. Even though Eli loved football he also played a multitude of sports. He was part of the North Winnipeg Nomads Football Club since 2002, coaching for more than half those years. He also coached the team and his boys on the Maples CC, Garden City and Red River CC basketball teams. He was a basketball coach at Ecole Lansdowne for more than ten years. Eli loved all sports, watching and playing. He spent many lunch hours at the downtown YMCA perfecting his 3 point shot. Eli became an inspiration to any young child that he coached, giving his time, patience and encouragement.
Eli started off his career in construction at Maple Leaf. He then moved on to J & D Penner and finally to Premier Paving Ltd. where he flourished and took so much pride in his work. His last project was building us a beautiful patio and fire pit. Somewhere to relax and reflect. I know you'll always be out there with us love XOXO.
Eli, you were my rock, my love, my soul mate. Thank you for blessing me with 3 beautiful children and 30 years. You have been an amazing father, son, brother, uncle, friend, coach and mentor. You my love, have touched, influenced and impacted so many lives and will be missed dearly.
Prayers will be said on Monday, August 14 at 7:00 p.m. at Immaculate Conception Roman Catholic Church, 181 Austin Street North. Mass of Christian Burial will be celebrated on Tuesday, August 15 at 10:00 a.m. also at the Church. The service will terminate at the Church.
In lieu of flowers, donations may be made in Eli's memory to the Children's Wish Foundation.