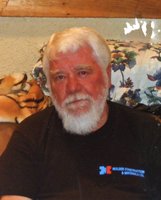 WALTER DANIEL MICHALCHUK
WALTER DANIEL MICHALCHUK
September 1, 1943 – August 5, 2017
It is with great sadness that we announce the passing of our beloved partner, father, and brother, Walter Daniel Michalchuk, after a brief but valiant battle with cancer. Left to cherish Walter's memory are his partner, Barbara Fay, his daughter, Michelle Michalchuk (Chris Lawson), and his brother, Glenn Michalchuk. Walter will also be missed by many other friends and relatives, including his Michalchuk and Grenkow cousins, Michelle's mother, Lynda Michalchuk, and her family, and the Fay and Jones families. Walter was predeceased by his sister, Lorraine Mercer, and his parents, Walter and Stella Michalchuk.
Walter attended Victory School, Edmund Partridge Junior High, and West Kildonan Collegiate and lived most of his 73 years in West Kildonan. He was an excellent dancer and in his youth spent many Friday evenings at St. Martin-in-the-Fields Young People's dances. He loved driving fast and was a car, motorcycle, boat, and airplane enthusiast. He often raced his 1966 Corvette Stingray in the States and won many trophies doing so. For many years Walter was an avid cyclist; neither rain nor sleet nor snow kept him from riding his bike all over Winnipeg. He liked fishing and spending time at Long Lake. Walter was a sports fan who followed the NHL, CFL, and NFL. He enjoyed spending time with friends at the #246 Legion and the West Kildonan Legion. Walter was very proud of his 30 year career working on the DEW Line as a Logistics Specialist and Station Supervisor. During his years on the DEW Line he made many friends and had many adventures, spending months at a time stationed at various radar stations throughout the Canadian Arctic.
Walter was a thoughtful, generous, and cheerful man who always made his loved ones feel special. He was always willing to provide a ride, run an errand, or help out with a project. We will always love you and miss you. Love.
A memorial service will be held on Thursday, August 17 at 11:00 a.m. at Cropo Funeral Chapel, 1442 Main St. Following the service there will be a reception at West Kildonan Legion, 1748 Main St. In lieu of flowers, donations in Walter's memory may be made to the Canadian Cancer Society, Manitoba Division, 193 Sherbrook St., Winnipeg, Manitoba R3C 2B7.