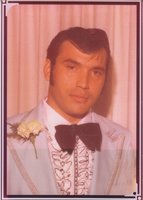 BARRY ELMER WIEBE
BARRY ELMER WIEBE
April 20, 1948 – May 13, 2017
It is with great sadness that we announce the passing of our dear brother and uncle, Barry Elmer Wiebe (a.k.a. Joe) on Saturday, May 13, 2017 at St. Boniface Hospital.
Barry leaves to mourn his siblings, Violet (Rod) Mead, Drumheller, AB, Judy Wiebe, Edmonton, AB, Sylvia (Ron) Sedor, Fort Nelson, BC, John Wiebe, Edmonton, AB, Bonnie (Butch) Palmer, Winnipeg Beach, MB, Donald (Tina) Wiebe, Ile Des Chene, MB, and Dennis Wiebe, Edmonton, AB; 14 nieces, 5 nephews, he also had the son he never had, but classified him as his son, Dwayne Bridal; many great nieces,and great-nephews, cousins and friends. Barry was predeceased by his parents, Elmer and Florence Wiebe, sister Hazel Murray and grandparents.
Barry drove tandem trucks and heavy equipment for many construction companies til he was forced to retire due to illness. Barry enjoyed watching wrestling, fishing and having his annual BBQ's for family and friends as well as, camping at the farm in Oak Point, MB.
Honary pallbearers are his brothers, John, Donald and Dennis Wiebe; brothers-in-law, Rod Mead and Butch Palmer and Dwayne Bridal.