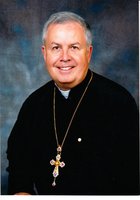 RT. REV. MITRED ARCHPRIEST HENRY LAKUSTA
Rt. Rev. Mitred Archpriest Henry Lakusta
May 6, 1950 - May 9, 2017
Father Henry Lakusta, fell asleep in the Lord on Tuesday, May 9, 2017 at Riverview Health Centre in Winnipeg, Manitoba
Fr Henry was born on May 6, 1950 in Willingdon, AB., the fourth child of John and Eva (nee Goyan) Lakusta. He grew up on the family farm in Andrew, AB. Attended the Andrew Secondary School, and after graduation enrolled at St. Andrew's Theological College in Winnipeg, MB.
In his final year of theological studies, Fr. Henry married Audrey Chubey of Rosa, MB. on November 6, 1971. Their marriage was blessed with three daughters: Tammy, Angeline, and Rachel.
Fr. Henry was ordained to the Deaconate of the Ukrainian Orthodox Church of Canada on March 25, 1972 in St. Andrew's College Chapel by the late Bishop Boris, of blessed memory. That same year, on July 23 he was ordained a Priest by the late Archbishop Andrew of blessed memory at St. Peter & Paul UOCC Church in Andrew, AB.
After his ordination, over the course of 45 years, Fr. Henry ministered to the following parishes and parish districts: Nipawin-Melfort, SK., 1972 to 1977; Vernon, BC., 1977 - 1980; St. Volodymyr, Calgary, AB., 1980 - 1993; Holy Trinity Cathedral, Winnipeg, MB., 1993 - 2008; Rossburn/Oakburn, MB., 2008 - 2011; Kenora, ON. and Fort Frances, ON., 2012 - 2015; and St. Ivan Suchavsky, Winnipeg, MB., 2015 - 2017.
While ministering at St. Ivan's Parish, Fr Henry also worked part time at Cropo Funeral Chapel, Winnipeg.
In addition, Fr. Henry served on the UOCC Consistory Board of Directors from 1990 to 2000. For his pastoral service, he was awarded various priestly elevations, last being to the rank of Mitred Archpriest in 2007.
Fr. Henry will be sadly missed and lovingly remembered by his wife of 46 years, Audrey (nee' Chubey); daughters: Tammy (Randy) Grieman, Angeline Lakusta, Rachel (Jeff) Smith all of Winnipeg; five grandchildren: Emily, Adam, Maxwell, Xander and Aubrey; brother Rt. Rev. Protopresbyter Victor (Marusia) and sister Iris Lakusta; sister-in-law: Elsie (Doug) Kathler; brothers-in-law: Lawrence (Marilyn) Chubey, Jarvis Chubey, Dennis (Karen) Chubey; and many nieces, nephews, relatives and friends. He was predeceased by his parents, John and Eva Lakusta, sister Violet Logozar, as well as in laws, Dan and Susie Chubey and brother-in-law Larry Hopkins.
Fr Henry's funeral services will be celebrated at St. Ivan Suchavsky Cathedral (939 Main St., Winnipeg) with His Eminence, The Most Rev. Metropolitan Yurij as the main celebrant, assisted by clergy of the Ukrainian Orthodox Church of Canada. The Rite of Burial of a Priest will be celebrated on Monday, May 15 at 7:00 p.m., and The Hierarchical Divine Liturgy on Tuesday, May 16 at 9:00 a.m., followed by Interment at Glen Eden Memorial Gardens.
With Fr. Henry's eternal repose we want to remind others that life, love and family is something to cherish and celebrate; all of which were important to Fr. Henry. Although God has him in His keeping, we have him in our hearts, forever loved and remembered. We will miss him dearly, especially his endearing smile, sense of humour and loving kindness.
The family wishes to thank all staff at Health Sciences Centre and Riverview Health Centre for their compassionate care of our beloved Henry in his final weeks of life, and to all our immediate and extended family, brother clergy, and friends for their prayers, support and love during this difficult time. We especially wish to thank Fr. Gene Maximiuk for the pastoral care he provided to Fr. Henry and his family.
In lieu of flowers, if so desired, a memorial donation may be made to St. Ivan Suchavsky Cathedral parish.