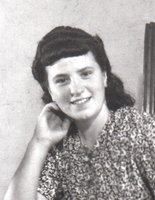 ANNA KOBAK
ANNA KOBAK
We are saddened Anna Kobak née Mozarowska, our Mom, Baba, Great Grandmother and Great- Great Grandmother passed away on Easter Sunday, April 16, 2017, at the age of ninety-two.
Mom was born near Kiev, Ukraine on December 20, 1924. As a child, she survived the Holodomor in Ukraine; and in 1941 as a teenager, she was taken to Germany as forced labourer. Anna met her husband Stefan in Germany. After the war in 1949, they immigrated to Canada with their two sons, Nick and Paul and settled in Winnipeg with many friends from the Camp who shared a similar experience.
Her parents and siblings Helena, Janya and Mykola predeceased Mom in Ukraine, as did her husband Stefan in Winnipeg, 2002.
Mom is survived by her sons, Nick (Dorothy), Paul (Elizabeth), and Stephen (Joyce); grandchildren, Teresa, Tanya, Tricia and Stephen; great grandchildren, Tamara, Brandon, Nicholas, Mitchell and Mathew; great, great grandchild Harper Leigh Anne; and her Godchild, Tania - daughter of a childhood friend in Ukraine, Alexandra Krekcza, who immigrated to Australia following the war. Additionally, Mom has many other relatives in the Ukraine who have connected with us through the magic of the internet.
Mom will always be remembered for her generosity and care for her family both at home and in Ukraine. Mom worked hard but always enjoyed cooking and encouraging everyone to eat, eat, eat! No one left Mom's without a care package for the trip home. Mom has left us with many, many memories.
We would like to thank Holy Family Nursing Home and Seven Oak Hospital doctor's and staff for their excellent care.
Mom will be laid to rest alongside Dad at the Holy Family Cemetery, Winnipeg.
Vichnaya Pam'yat