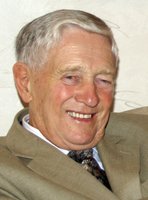 WALTON (WALLY) THOMSON
WALTON (WALLY) THOMSON
On April 15, 2017, Wally, beloved husband, peacefully passed away with his wife by his side.
He will be sadly missed by his wife Adeline, several nieces and one nephew.
Wally was employed by the CN Railway for 42 years. He was a founding member of the Arlington Sports Club, a member of Elmhurst Golf Club and a curler with the Fort Garry Curling Club.
Funeral Mass will be held on Thursday, April 20 at 10:30 a.m. at St. Anthony of Padua Church, 250 Burrin Ave. with Father Dominic officiating. Interment to follow in Glen Eden Memorial Gardens.