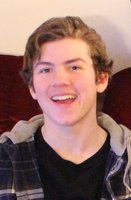 DEREK JONASSON BRIDGMAN
DEREK JONASSON BRIDGMAN
May 26, 2002 – April 12, 2017
It is with immense sorrow and broken hearts that we announce the sudden passing of our son, grandson and nephew, Derek Bridgman, aged 14 years, of Winnipeg on April 12, 2017 at his home.
He leaves behind to mourn his passing and treasure his memory his mom, Kristina; Amma and Papa, Denise Jonasson and Conrad Porth; sister, Sydney of Windsor, ON; brothers, Jared and Thomas; grandparents, Len and Judy Bridgman of Thunder Bay, ON; uncle Jonas and Sabrina (Mickayla and Autumn); aunts, Lisa (Nathan and Cole), Shanda and Scott (Leta, baby Anthony, Sara, Kevin and Rian). He was predeceased by his father Dale in 2008.
Derek was born in Winnipeg and lived with his Amma and Papa, where he was loved and cherished. He had such a loving heart and a caring way for his family, especially for his little siblings and cousins. The highlight of his year was the family reunion at Hnausa Park. How he would enjoy seeing everyone. Derek loved to go travelling with his Amma and Papa especially to D.C. to see his cousins, and to Riverton each weekend. It was there he made so many friends. He would always have a good time. Derek will be missed and forever remembered by his uncles, aunts, cousins and friends, as well as his family in Thunder Bay where he spent time each summer.
Derek attended Sargent Park School where he was in grade nine. He was very artistic, musically gifted and was an exceptional student. He was so smart in everything he did. He was a self-taught guitarist and loved nothing more than listening to music and playing his guitar. These were his best moments. He loved pulling pranks and he'd laugh so hard when he'd give his Amma a good scare.
The Funeral Service will be held on Thursday, April 20 at 2:00 p.m. at the Cropo Funeral Chapel, 1442 Main St. Viewing will be held one hour prior to the service. Cremation to follow. A graveside service will be held at the Riverton Cemetery at a later date.
Honorary pallbearers will be his cousins Kevin and Owen and his buddies Damon, Kyle and Mackenzie.
In lieu of flowers donations can be made to a charity of your choice.
The family would like to thank the Winnipeg Police Dept. and the paramedics for their quick response and valiant efforts.