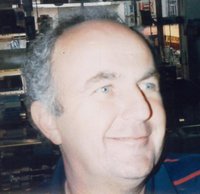 JOHN LECHOW
JOHN LECHOW
It is with fond and loving memories that we sadly announce the passing of John Lechow at Concordia Nursing Home on April 11, 2017.
John was born in Winnipeg, MB on October 31 1932, which made Halloween a special day for all the children in the area, as he knew how to celebrate this day.
He is remembered by his wife Doreen and his children Noreen Muldoon, Clifford (Laurie) Lechow, and Glenda and (Paul) Williams. He will also be missed by his grandchildren Jeff and (Kristen) Lechow, Stephen Lechow (Christine), Allison Muldoon, Jennifer Williams, and John Charles Muldoon, his great grandchildren, Alexia Lechow, Juliana Lechow, Maddy Dack and Tylon Dack. John enjoyed life with his family and especially his grandchildren.
There will be a service for the immediate family at a later date.