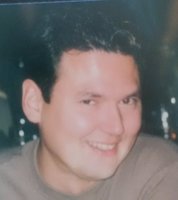 (THOMAS) JASON HARPER
(THOMAS) JASON HARPER
September 26, 1970 – March 10, 2017
It is with the deepest sorrow that we announce the sudden and unexpected passing of Jason Harper on Friday March 10, 2017 at his home at the age of 46 years.
Remaining to cherish his memory are his loving wife Ardell Cochrane, his babies Sage and Ryllie, god-daughter Stefani Traverse, his mother Deloris Dunning, sisters Shirley Dueck, Illa St. Godard (Luc), Linda Hiebert (Wilf) and brother Theron Harper (Rhonda), father in law Tom Cochrane, brothers in law Tom (Marcella), Gerald, Dean (Nicole), sisters in law Sylvia McKay (Joe), Eunice Manningway, Denise Thomas, Tina Cochrane, Vicki Cochrane (Joe), Susanna Scott and many other family members and friends.
Jason was predeceased by his father Gerald Harper, step-father Gordon Dunning, bothers Jim and Leslie Scott.
Jason lived life to the fullest and welcomed family and friends with open arms. Once you met Jason he considered you a life-long friend. He remembered every face, every name and the happy experiences he shared with all. Jason loved to sing karaoke, dance, cook, renovate and was the world's biggest jokester with a wicked but loving mischievous side. Jason's greatest passion was to travel and had many memorable trips to Vegas, Mexico, Cuba, Jamaica, Dominican Republic, Australia, Europe and across Canada with his wife and friends. He loved being at his mom's, driving his dune buggy and working on his cabin. His greatest joy was spending the last 20 years with his wife Ardell making a loving and comfortable home for her and his puppies who he considered his children.
The family would like to extend a special thank you to friends, neighbors, the Board of Directors, staff and the Youth at Nanaandawewigamig (FNHSSM), Peguis First Nation, AMC and MKO.
Pallbearers will be Theron Harper, Ryan Moss, Harry Cook, Terry Titanich, Rod Brown and Phillip Buck.
A prayer service will be held at 7:00 p.m. Friday, March 17, 2017 at Our Lady of Perpetual Help, 4588 Roblin Boulevard with the Rev. Msgr. Maurice Comeault officiating. Mass of Christian burial will be celebrated at 1:00 p.m. Saturday March 18, 2017, with cremation to follow.
In lieu of flowers donations may be made to the Winnipeg Humane Society, 45 Hurst Way, Winnipeg, MB.
"You are the joy of my life"